File Details

File Size
3.0 MB
License
Shareware, $20.00
Operating System
Windows 7/8/10/Vista/XP
Date Added
August 20, 2020
Total Downloads
54,443
Publisher
mIRC Co. Ltd.
Homepage
mIRC
Publisher's Description
mIRC is a full featured Internet Relay Chat client for Windows that can be used to communicate, share, play or work with others on IRC networks around the world, either in multi-user group conferences or in one-to-one private discussions. It has a clean, practical interface that is highly configurable and supports features such as buddy lists, file transfers, multi-server connections, SSL encryption, proxy support, UTF-8 display, customizable sounds, spoken messages, tray notifications, message logging, and more. It also has a powerful scripting language that can be used both to automate mIRC and to create applications that perform a wide range of functions from network communications to playing games.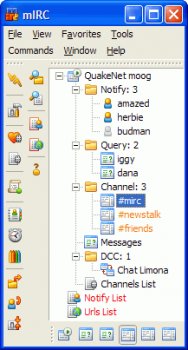 View Full-size
Latest Reviews
daq reviewed v7.53 on Dec 4, 2018
Been using it for years. Bought a license a few years back to get rid of the nag screen. Still works like a charm.
Picasso reviewed v7.49 on May 26, 2017
I'd like to kill this garbage with fire!
It's one of the worst programs I've ever used!
Picasso reviewed v7.45 on May 30, 2016
mIRC is one of the worse pieces of software ever written!
Just use HexChat!
Diam0nd reviewed v7.42 on Jul 19, 2015
An absolutely timeless piece of software, just like Total Commander
sn0wflake reviewed v7.42 on Jul 17, 2015
One of those old time classics that has gone the same way as UltraEdit.
FatBastard reviewed v7.41 on Jun 21, 2015
mIRC is total crap!
I'm not trolling. It's my honest opinion!
HexChat is superior and completely free!
h8red reviewed v7.39 Beta on Feb 22, 2015
The GUI has some stupid things going on, but it's stable and reliable.
FatBastard reviewed v7.38 on Dec 1, 2014
Crapware
panic82 reviewed v7.35 Beta on Aug 7, 2014
Best IRC client hands-down. It is by far the most stable, low-resource, and customizable IRC client around - and one of the originals.

FatBast seems to hate this program but fails to mention one thing that it falls short at doing. My guess is he is a Linux fanboy who gets off on hating on Windows users who figures that if it's not a console app and a real pain the in a** to use (ircii, epic, bx) that it must suck. Go circle jerk your friends (who only exist on IRC most likely) elsewhere. We get it, you hate Windows cuz it's not l33t l1k3 j00.

mIRC is as slim as you want it to be. Out of the box it's pretty much as light-weight, feature packed, and solid as you can imagine. If you want to install scripts (whether they're practical or you want some lame annoying spam bot script) you can do that. mIRC script has been a fairly well established language that anyone with mild programming experience can pick up. Seriously, it doesn't get better than this. Just about every bad review is from one person... Fat Bast.
tontito reviewed v7.35 Beta on Aug 6, 2014
Great program if you like to go ahead on creativity.

Fatbas**** does feel desperate to make low reviews of whatever he doesn't like.
You look just like a politician...