File Details

File Size
34.4 MB
License
Shareware, $29.95
Operating System
Windows 7/Server 2003/Vista/XP
Date Added
December 1, 2015
Total Downloads
29,347
Publisher
Agnitum, Ltd.
Homepage
Agnitum Outpost Firewall
Other Versions
Publisher's Description
Agnitum Outpost is the first personal firewall developed with Open Architecture. It is also the first personal firewall that supports plug-ins. Sample plug-ins are included to show how this revolutionary technology can easily be employed for such tasks as Intrusion Detection, Advertisement Blocking, Content Filtering, E-mail Guard, and Privacy Control. It is equipped with every feature a personal firewall should have. It is the most functional firewall in the world. Outpost supports all the latest security techniques and features such as: Full Stealth Mode, Anti-Leak, and MD5 Authentication.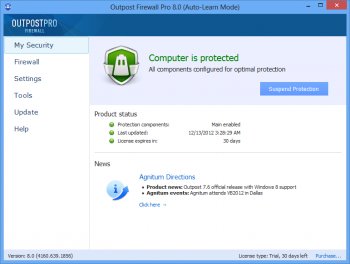 View Full-size
Latest Reviews
NyaR reviewed v8.0 (4164.639.1856) on Jan 16, 2013
Been using this for a few years, have not needed an anti virus at all. Sometimes use a free one to scan suspect files.

This has saved me from a few java exploits and some other bs.

Also there is a built in IP Filter blocker.

If you've got the patience to learn this program you won't need another one ever again.
ninjeratu reviewed v7.5 (3663.571.1653) Beta 3 on Apr 19, 2011
This is beta 2.
The most current beta is found on http://www.agnitum.com/lp/outpost-7-5-beta.php

And the 7.5 betas are very unstable and weird with lots of functions removed (that will return in later betas).
I strongly suggest anyone not familiar with Agnitum products to skip the 7.5 betas altogether.
CyberDoc999 reviewed v7.0.3 (3392.517.1242) on Sep 28, 2010
why all the slow-nesssssss ???????
xion reviewed v7.0.1 (3376.514.1234) on Jul 26, 2010
Makes both my Win7 PCs slow, and can break network without adjusting it.
raz0r reviewed v6.7.1 (2983.450.0714) on Sep 24, 2009
Works perfect for me no problems love it
all my friends and family use Agnitum products we are all happy this program.
anomoly reviewed v2009 (6.7.2957.446.711.358) on Jul 30, 2009
I tried the latest fw pro and the free version. Both consume cpu via that pos acs.exe file at an extreeeme rate I have never seen in previous versions. The latest comodo pro free gui is (finally!) working like a champ and even gets a much better score on matousec.
Weirder still, outpost blocked IE net access when dns was disabled. ce la ve
Phat Esther reviewed v2009 6.7 (2954.446.0710) on Jul 21, 2009
couldnt start on windows 7 hahahahaha
anomoly reviewed v2009 (6.5.5.2535.385.0692) on Jun 10, 2009
I agree. I have tried them all and have always gone back to this as it simply does the job without complaint.
And the free version was very recently updated.
quantumcipher reviewed v2009 (6.5.3.2518.381.0686) on Jun 5, 2009
I've found Outpost to be stable in all of the platforms I have used it (XP Pro SP1-3, Vista 32 & 64-bit, as well as Windows 7 RC1 32 & 64-bit). The protection it offers is top notch, however (as others have stated) somewhat bloated. That is, bloated if you do not disable certain components that are enabled by default. These componenets include: Anit-Spyware Protection, Host Protection, Self-Protection, & Logging (this last one is optional but will free up some RAM if disabled). If you disable the unnecessary components (unnecessary for experienced users), your firewall will no longer be bloated, but will continue to offer the superior protection Outpost has to offer. I would not, however, recommend this firewall for older or slow computers. If your computer is 5 years old or newer you should be good to go. I currently have it on all my systems, configured as mentioned above, and I can confirm that it is working smoothly and have yet to see it cause any issues of instability, as others have claimed. On my older computers, however, I used to prefer to use Comodo, as it is lighter on resources, but have since transitioned to Outpost without complication.
Lsavagejt reviewed v2009 (6.5.3.2518.381.0686) on Mar 18, 2009
I liked this thing a lot a year ago, but there doesn't seem to be any way to turn off the "news" which is nothing but a built-in adware module. I HATE advertising.

Scored well on Matousec, though! Back to COMODO....