File Details

File Size
9.2 MB
License
Shareware
Operating System
Windows 7/8/10
Date Added
May 28, 2020
Total Downloads
228,025
Publisher
Alcohol Software
Homepage
Alcohol 120%
Publisher's Description
Alcohol 120% is CD/DVD emulation and recording software that allows users to copy discs. Store your most used or important CDs as images on your computer and run them at 200x speed from up to 31 virtual CD or DVD drives. Alcohol is compatible with more than 99% of drives available. It supports the latest image file types including - MDS, CCD, BIN, CUE, ISO, CDI, BWT, BWI, BWS, BWA and many more.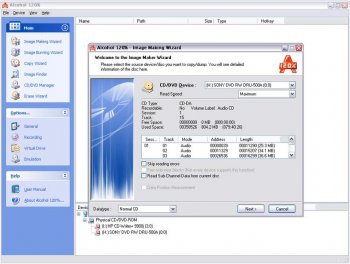 View Full-size
Latest Reviews
finnlayer reviewed v2.0.1.2031 on Sep 12, 2010
use full when blindwright can't make a back up copy work 100% seems both programs work a like in some ways, when one don't work great for the disk copys there is choice between the two programs for getting a perfect copy, just one lacks features than the other.

given time i belive that other features may be added, to copy disks can be long and boring process with such hard protection' but same for most copy programs there seems no 3 min quick ripp unless you only copy 700mb disks, expect 20 mins or so for dvd backup with protection, depends what protecton on a disk there is, other program you could use with such same features is Fantom, in all does it job well but 30 days is not very long 120 days trial for most software would be way better, buy the time you blink the 30 days is over....
Input Overload reviewed v2.0.1.2031 on Sep 12, 2010
it used to be one of my fave programs but times have changed & it's not as useful as it was some years ago.
4122 reviewed v2.0.1.2031 on Sep 10, 2010
A solid program, but not as useful as it once was.

Don't know what the reviewer below me is talking about. This program only recently reached v2. There's never been a version 3.47.

Maybe he's talking about Daemon Tools? Who knows?
Artem S. Tashkinov reviewed v2.0.1.2031 on Sep 10, 2010
Phones home too often, has a rootkit like SCSI emulation driver.

I used to love it, but now I hate it. The best version of it was 3.47.
Terijan reviewed v2.0.1.1820 on Jul 3, 2010
Nice burner, indeed. Has a few features that Nero 10 can't offer: virtual CD / DVD, burn disk with low speed, make images of protected disks (this feature is not needed these days, at least for me).
5 stars
4122 reviewed v2.0.0.1331 on Feb 4, 2010
I've always enjoyed this software & I'm looking forward to what v2.x will bring us.

To those not understanding the current half-price offer there was a newsletter sent out to registered users that stated the following:

With the release of version 2 comes our new price structure.
Next week, lifetime licenses will increase back to the price of 59 Euros (excluding VAT @ 19% if you are within Europe) and
1 year free updates will be 39 Euros (excluding VAT @ 19% if you are within Europe)

So yes, the current price of 39 Euros *IS* half-price of what the new price is going to be for lifetime licenses.
emanresU deriseD reviewed v2.0.0.1331 on Feb 4, 2010
"Special limited half price Lifetime Upgrades offer". Hilarious. Here's one for you:

Q: When is a "limited time offer" not really a "limited time offer"?

A: When it's being offered by a software vendor.

Currently the price for a lifetime upgrade license for Alcohol 120% is $57 USD. I bought it for a few bucks LESS than that last year!

@4122: I got that newsletter, too, but I didn't fall for it. Don't you see what they did? Double the price, and then pretend there's a half-off special in place. So the actual price stays the same, except they get to advertise a "limited-time special" for as long as they want to, and be extremely flexible with the price by altering that discount as they see fit and as time goes on.
UPieper reviewed v1.9.8.7612 on Sep 22, 2009
Works fine on my XP system. I have bought it since they have a "Special limited half price Lifetime Upgrades offer" at the moment.
sosonono reviewed v1.9.8.7612 on Sep 14, 2009
alcohol 120 good but

alcohol 120 make files fast

make bakup of audiocd it will be fast it will play faster
try this and make compare of the orignal and copy
alcohol 120 make files fast
alcohol 120 alter files

it also make you feel like when drinking alcohol

i post this on club cdfreaks forum and daemon tools forum it was deleted
gehtnix reviewed v1.9.8.7421 on Feb 25, 2009
authors putting more effort in anti-piracy protection than in making their software better. indeed it has some nice features, but i can't rate higher than "2". a burning program should not mess up the OS it's running on (well, this especially seems to apply to certain chipset / driver combinations). that dinosaur cdrwin never let me down, no matter how messed up the system was. alcohol itself is unstable, i'm sorry to say that.