File Details

File Size
39.1 MB
License
Open Source
Operating System
Mac, Unix, Windows 7/8/10/Vista
Date Added
September 17, 2022
Total Downloads
9,115
Publisher
AVIDemux
Homepage
Avidemux
Publisher's Description
Avidemux is a free video editor designed for simple cutting, filtering and encoding tasks. It supports many file types, including AVI, DVD compatible MPEG files, MP4 and ASF, using a variety of codecs. Tasks can be automated using projects, job queue and powerful scripting capabilities.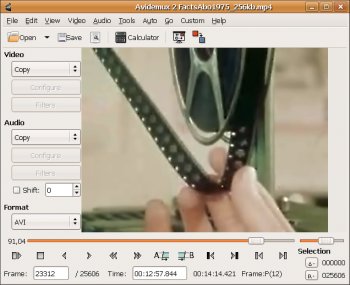 View Full-size
Latest Reviews
Hilbert reviewed v2.6.8 on Mar 13, 2014
Well, despite Avidemux 2.6.8's long list of bug fixes, the TV/PVR .MPG audio sync bug is STILL NOT FIXED in this version (see my review for 2.6.7 below).

This is a truly serious bug in Avidemux, and a peculiar one at that. Peculiar, because I cannot find a single media player that actually plays these MPG files incorrectly in their unedited form! However, after the simplest Avidemux edit, they're all stuffed!

(That's to say media players such as MPC-HC, VLC, MPlayer, WMP, et al, play the files perfectly--i.e.: with absolutely NO audio/lip sync problem but AFTER they're edited with Avidemux all these players play them with the audio out of sync.)

[FYI, below is a MediaInfo's properties list of one of these MPG files.]

Yet, Avidemux 2.6.8--even in its 'player mode' (before any editing)--plays every one of these MPG files completely out of lip sync. The audio is out of sync by at least 350 to 500 ms (depending on file). This means that if one uses Avidemux, then even the simplest of edits has to be done manually using the offset, which is a real pain unless you've a clapper sync point (which is not often the case on TV/PVR programs).

Forget Avidemux, there's just far too much wrong with it!

(Buy a cheap program such as VideoRedo - http://www.videoredo.com/en/index.htm. It edits perfectly without a trace of out-of-sync audio on these MPEGs. Which also proves there's nothing essentially wrong with any of these MPEGs. )

________________

Typical MPEG file properties for files that Avidemux 2.6.x cannot audio sync:

General
Complete name : C:\AVI\TEST\000.mpg
Format : MPEG-PS
File size : 2.98 GiB
Duration : 1h 31mn
Overall bit rate mode : Variable
Overall bit rate : 4 668 Kbps

Video
ID : 224 (0xE0)
Format : MPEG Video
Format version : Version 2
Format profile : Main@Main
Format settings, BVOP : Yes
Format settings, Matrix : Custom
Format settings, GOP : Variable
Duration : 1h 31mn
Bit rate mode : Variable
Bit rate : 4 319 Kbps
Maximum bit rate : 10 000 Kbps
Width : 720 pixels
Height : 576 pixels
Display aspect ratio : 16:9
Frame rate : 25.000 fps
Standard : PAL
Color space : YUV
Chroma subsampling : 4:2:0
Bit depth : 8 bits
Scan type : Interlaced
Scan order : Top Field First
Compression mode : Lossy
Bits/(Pixel*Frame) : 0.417
Time code of first frame : 02:42:46:22
Time code source : Group of pictures header
Stream size : 2.76 GiB (93%)

Audio
ID : 192 (0xC0)
Format : MPEG Audio
Format version : Version 1
Format profile : Layer 2
Duration : 1h 31mn
Bit rate mode : Constant
Bit rate : 256 Kbps
Channel(s) : 2 channels
Sampling rate : 48.0 KHz
Compression mode : Lossy
Delay relative to video : -393ms **
Stream size : 168 MiB (5%)

** Note the delayed audio.
Hilbert reviewed v2.6.7 on Dec 15, 2013
There are very significant bugs in Avidemux 2.6.6 and 2.6.7 (I've not tested earlier versions). These bugs have to do with audio/video sync of .mpg files.

Certain .mpg files which work and sync AOK in all common players such as VLC, MPC-HC etc., (and edit fine in other editors) play out of sync in Avidemux--even in the view mode before an edit is commenced. Essentially, Avidemux is broken before it even starts an edit.

This bug is so bad and significant I thought I was going a bit crazy. In a facetious post on the videohelp forum I sought help to which I received good suggestions which proved Avidemux is at fault. See dialog here:

http://forum.videohelp.c...a9b759b9d9025c95aba6936

Another downer is that I could not find a feedback link on the Avidemux web site to even report the bug! If one can't easily report bugs then this product is just too problematic to even consider.

It seems this bug is the same or very similar to that which Aegis69 has experienced. Clearly, the Avidemux developers don't read these reviews -- as it's now quite some months and a point version later since Aegis69 posted his comment.
Aegis69 reviewed v2.6.6 on Sep 30, 2013
I hope they fix the sound issue, whenever I make edits and do a direct copy save, the sound goes out of sync every time unless I re-encode the audio.
reddy.shyam reviewed v2.6.4 on May 13, 2013
Excellent software.

Regarding documentation, you can check this link http://www.avidemux.org/admWiki/doku.php
FatBastard reviewed v2.6.4 on May 10, 2013
I realize that this software is powerful but it's also difficult to use.
Is there a guide somewhere?
stisev reviewed v2.6.0 on Dec 15, 2012
The absolute GOLD STANDARD of all video editing apps. Avidemux sets the bar on another level along with apps like Mp3tag, zoomplayer, etc.

Bravo. Just bravo!
Ulmo reviewed v2.5.2 RC1 on Dec 17, 2009
So simple, so usefull, so effective. A must have !
anomoly reviewed v2.5.2 RC1 on Dec 15, 2009
Compresses down to 19 MB and runs portably.
mean/grunster -lol
jerry4dos reviewed v2.5.1 on Oct 17, 2009
This one worked perfectly for me for some simple edits and file-type conversions, right out of the box, and it was "intuitive" enough that I didn't have to crack open the HELP file.
emanresU deriseD reviewed v2.5.0 r4763 Beta on Jul 21, 2009
@Stoerpser: Yes, it is valid to judge how good a program is based on how easy it is to use. It's called "usability". Maybe you are more familiar with video editing than others, or maybe you have gobs of time.