File Details

File Size
19.2 MB
License
Freeware
Operating System
Windows (All)
Date Added
September 8, 2022
Total Downloads
194,755
Publisher
BitTorrent, Inc.
Homepage
BitTorrent
Other Versions
Publisher's Description
BitTorrent is a protocol for distributing files. It identifies content by URL and is designed to integrate seamlessly with the Web. Its advantage over plain HTTP is that when multiple downloads of the same file happen concurrently, the downloaders upload to each other, making it possible for the file source to support very large numbers of downloaders with only a modest increase in its load.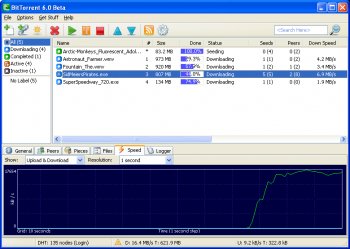 View Full-size
Latest Reviews
Aegis69 reviewed v7.7 build 27987 on Sep 21, 2012
Yes Transmission for windows!

http://sourceforge.net/projects/trqtw/
Bala7 reviewed v8.0 Build 25333 Beta on Jun 1, 2011
DL points to build ver 25306
anodin reviewed v8.0 Build 24990 Alpha on Mar 18, 2011
On December 7, 2006, µTorrent was purchased by BitTorrent, Inc., µTorrent is a trademark of BitTorrent, Inc.
Input Overload reviewed v7.1 Build 21846 on Sep 12, 2010
Another clone but OK.
Prospero424 reviewed v7.1 Build 21846 on Sep 11, 2010
Transmission's great, but there's no Windows version. This is for Windows.

I think they're rolling out apps for this mainline version (7.1) before they roll them into the stable uTorrent build in 2.2. Might be worth trying out.
Aegis69 reviewed v7.1 Build 21846 on Sep 11, 2010
Transmission guys, trust me.
shantanu reviewed v6.1.2 on Nov 13, 2008
"Feature creep" ... I agree.

The license says "Open Source" ... kinda misleading ... the source is available till version 5.

But we all know that this is basically uTorrent with a different default toolbar ?
bigmama reviewed v6.1.2 on Nov 12, 2008
whats the diff between this and ?torrent?
Wardev1 reviewed v6.1 on Sep 9, 2008
Regular bit-torrent.. it's standard stuff... KISS, keep it simple stupid. Don't add stuff where it's not needed. Feature creep is all well and good if it doesn't slow down the program, and actually enhances it's usability in some important way.

I really liked azureus before they got bought out (or sold out) and became "vuze", even if it was a bit bloated I liked Azureus's interface.
Papa Lazarou reviewed v6.0.3 on Mar 18, 2008
I rolled back to 6.02 . Vesion 6.03 puts something in the temp folder that previous versions didn't causing endless pop-ups from Online Armor asking if I wanted to continue , no matter how many times I said yes it was there again on program launch ,[ in the temp folder but with a different number] 6.02 doesn't do this.