Publisher's Description
Dexpot optimizes the window managment of your PC, eleminates the problem of the disorder on your desktop and has many more functions. Extend your Desktop to a multiple: Dexpot makes working with your system substantially faster and more comfortable. All functions use a unified graphical interface which is very easy to operate.
Freeware for private users.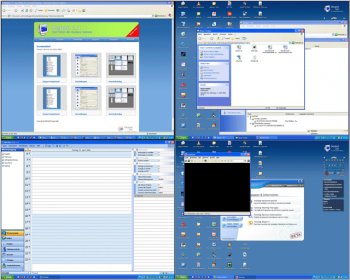 View Full-size
Latest Reviews
darkNiGHTS reviewed v1.6.13 Build 2429 on Jun 30, 2014
Great program! Quite whining about OpenCandy, it's not used after installation, just to display an ad during setup. Clueless people downrating this program.
geomelen reviewed v1.6.13 Build 2429 on Jun 9, 2014
Open Candy..... bye bye..... look for other options.....
jotte_ct reviewed v1.6.8 Build 2266 on May 3, 2013
@humbleuser: using on Win7-x64 for a couple of months and I never had any issues with it or BSODs! Only bsod I had were due to McAfee, once I investigated and isolated that $hit, all stable as a rock on sand!
Why would you rate a program low while you are NOT sure if this one it is really the culprit for your system bsod!?!

At least 5 stars here for a great free program!
DKDude reviewed v1.6 Build 2106 RC on Jul 10, 2012
Includes "Opencandy" I'll look for another tool.
HeilNizar reviewed v1.6 Beta Build 2003 on Jun 6, 2012
I hardly give 5 stars, this one deserves 10
bigspud reviewed v1.6 Beta Build 2003 on Jun 5, 2012
best multi desktop software i have used.
12mb mem use with 2 desktops.
very stable on winxp.
the automatic rules options are a life saver.
10 stars
humbleuser reviewed v1.5.13 Build 1721 on Sep 10, 2011
Program appeared to be very good but after a few hours BSOD on Windows 7 Ultimate X64. I never get BSODs and monitor stability closely so I suspect Dexpot but cannot be sure. It's now off and I've been stable for over 24 hours again. 2 stars for worry factor...
Diam0nd reviewed v1.5.8 Build 1434 on Apr 28, 2011
Absolutely the best virtual desktop manager. Even better than Desktops from Sysinternals. Highly recommended!!
Tigris reviewed v1.5.0 Build 1003 on Mar 14, 2010
1.5.0.1042 is out!
SuzzyWoozy reviewed v1.4.2 Build 768 on Jun 5, 2009
@anomoly: the solution is to clone the problematic windows on desired (all) desktops: right click on the Dexpot tray icon -> Desktop rules -> add a new rule for sharp widgets windows and then in the "Acction Tab" make sure you have "Copy" & "To all desktops".
Hope it solves the issue.

The issue is indeed that is not doing this automatically, but at least it give the option to have it. On my computer, it is configured like this for RocketLaunch tollbar.