File Details

File Size
2.0 MB
License
Freeware
Operating System
Windows (All)
Date Added
April 23, 2017
Total Downloads
42,997
Publisher
Nathan Moinvaziri
Homepage
ExtractNow
Publisher's Description
ExtractNow lets you extract multiple files with ease. Extract more than one archived file at a time, with a click of a button. To extract files, simply drag and drop them into the main program window, or right-click the files while in Windows Explorer. Makes extracting files easier and quicker. Supports ZIP, RAR, ISO, BIN, IMG, IMA, IMZ, 7Z, ACE, JAR, GZ, LZH, LHA and SIT archive formats.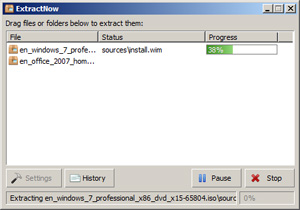 View Full-size
Latest Reviews
uberfly reviewed v4.8.0.0 on Aug 7, 2013
This is an awesome app if you need to extract a bunch of archives. Highly configurable. Glad to see the author continues to tinker with it. Use it often.
nvic reviewed v4.8.0.0 on Aug 5, 2013
Works alright, but I prefer Universal Extractor (more formats supported).

The installer showed a blank "special offer" page, and left a process called bi_installer.exe running and using the network. That process later installed a "Fast Free Converter" and a "Bundled Software uninstaller" that I never approved of, and set itself to run at every startup.
Diam0nd reviewed v4.7.7.0 on Jan 16, 2013
One of those "I wish I could code something like this myself" applications. Small, simple, solves ONE need perfectly. Simply genius. A must-have.
Lsavagejt reviewed v4.64 on Jan 9, 2012
Yup. I have yet to need a file this won't extract. It's lightweight and it's granular!
plasticpig72 reviewed v4.64 on Jan 9, 2012
I find this program to be extremely useful and easy to use - no open candy here either.
anomoly reviewed v4.62 on May 4, 2011
No open candy here.
Ozzy1 reviewed v4.62 on May 3, 2011
The spyware that the author has desided to company the new releases destroys this aplication. Look for other applications...
kbsoftware reviewed v4.6.1.1 on Apr 5, 2011
Decided to look at it once more see if the author got a clue and removed OpenCandy and at first it looked like he/she did but when I went to install it (I love virtualmachines) ESet NOD found OpenCandy again. So I deleted that virtual machine.

I don't have any problems with anyone wanting to make some money with their hard work and creations but this is the wrong way to go.

So as a result I have to recommend that everyone stay away from ExtractNow and look at other alternatives, 7-zip is a good place to start looking.
DonGato reviewed v4.59 on Mar 5, 2011
Can confirm it now has OpenCandy that uses data from your computer and location for selecting what additional software to offer you to install with ExtractNow. Most virus software regards this as Spyware/Malware.
kbsoftware reviewed v4.59 on Mar 3, 2011
I love ESet Smart Security, one of those investments in software that pays off here and there.
After finishing downloading ExtractNow ESet caught and stopped the download. Seems this ExtractNow comes bundled with OpenCandy.
And to me OpenCandy is not just advertising, it's malware, my personal opinion.