File Details

File Size
0.4 MB
License
Freeware
Operating System
Mac, Unix, Windows 7/2000/Server 2003/Vista/XP
Date Added
March 27, 2015
Total Downloads
97,992
Publisher
InformAction
Homepage
FlashGot
Publisher's Description
FlashGot is a free Mozilla/Firefox extension meant to handle single and massive ("all" and "selection") downloads with several external Download Managers.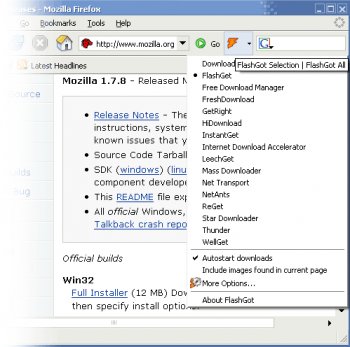 View Full-size
Latest Reviews
Aegis69 reviewed v1.5 on Dec 3, 2012
This program revolutionized the way in which I get porn.
beelzebub360 reviewed v1.2.1.21 on Apr 13, 2010
Well...it does what it's supposed to do. It allows you to use external download managers with Firefox. Been using it from the beginning and haven't had any issues at all.
The recent release allows you to choose download managers on the fly if you have more than one installed, too.
If you have any external downloaders and use FireFox, download it - its a MUST HAVE
Morningdove reviewed v1.1.7.8 on Feb 16, 2009
If you use FlashGot to download FLV videos as does SueAmma below, you may want to avoid v1.1.7.8. A Bug has crept into this version that causes the same video to appear twice when you hover over the download icon. If you click to download you get two copies of the same video. To work around this problem you must right click on the icon and select one of the two identical videos. I personally solved this problem by reinstalling v1.1.7.7 retrieved from a backup of my Firefox profile.

This anomoly has been reported and hopefully will be fixed in a future version. In the meantime I will keep a copy of v1.1.7.7 to replace any update that still has the problem.

ADDENDUM: NOTE FROM PROGRAM'S AUTHOR:
"fixing double video file issue in next build... very soon"
SueAmma reviewed v1.1.7.6 on Jan 30, 2009
FlashGot is great for downloading FLV files from YouTube and similar sites. When a video is available on the web page, a button appears on the right side of the status bar. One click and the video is downloaded.
Aegis69 reviewed v1.1.5 on Dec 1, 2008
Genius

Open Source for the win, again.
Why use FlashGot and a download manager? Because I often have to download batches of files, and using "FlashGot Selection"--and sending the files to Free Download Manager--is far easier and faster than manually downloading each one.

Complaining about the needlessness of FlashGot is just a failure of the imagination.

As far as DownThemAll! as a download manager/accelerator, it is too limited for serious use. I explain in my review there.
Diddelido reviewed v1.0.3 on Jun 14, 2008
Does exactly what it's mean to be and nothing more, perfect !!
anomoly reviewed v1.0.3 on Jun 13, 2008
I'm currently using minidm.exe via proxy
Joco reviewed v0.9.9.2 Beta on May 3, 2008
Common echohead, giving a low rating on this excellent plug in because do don't have a need or don't know how to use it well is rather unfair. You don't need to use FlashGot systematically on every file download!

I do mental calculations pretty well. I rarely use the calculator. Would you agree to qualify that the calculator program is useless?
[deXter] reviewed v0.9.9.2 Beta on May 3, 2008
FlashGot is a wonderful program that makes transfering download jobs to external managers seamless. Not only can it pass on the URL, but also the cookie and referer information. What this means is that you can even download from sites like Rapidshare! (of course, you have to type in the captcha or have a premium account).

echohead: Perhaps you're forgetting that there are other browsers besides Firefox, just as there are other functions to a download manager besides acceleration. Most servers these days anyways give good speeds on just a single thread.

Firstly, FlashGot can work with other browsers too, like Opera, so you can't always use DownThemAll.

Second, the need for an external download manager:

- For scheduling and automating downloads. DL managers can also connect/disconnect the net, login to the server if needed, shutdown/standby etc the computer after its done, etc.

- Download managers can often download from multiple servers/mirrors, thus *reducing* the load of a particular server.

- Some managers have the ability to download from multiple types of networks: For eg, if you're downloading a *nix distro, a dl manager could download part from HTTP, part from FTP, part from BitTorrent and part from other P2Ps like ed2k. This can be done automatically by getting the .metalink of the file you want to download.

- Most managers can automatically organize downloads. Eg: Music will get saved to /music folder, Movies in /movies etc.

- Some, like FDM, can retrieve a community rating/review on the file you're downloading - this is useful to warn the downloader of potential spyware/adware bundled in the download. You, in turn, could rate/review the file you're downloading too.

- Some managers can automatically check the MD5 of a downloaded file with the hash you provided. If the hashes don't match, it'll re-download the file. Similarly, most programs allow the execution of an external program on completion of downloads. This external program could be a MD5 hasher, a script to organize downloads, a virus scan, etc.

Surely, you must agree that a browser or a mere extension isn't capable of performing such tasks? What I've mentioned above is just the tip of the iceberg. I suggest you take a look at a full-fledged manager like GetRight, to get a feel of the possibilities.

Regarding segmenting:
Server admins generally have no problems with download managers segmenting downloads. If they did, you would see most sites restricting the bandwidth/number of connections per IP or session. In any case, segmenting can be disabled in all download managers. It's not such a great idea either, as over segmenting can choke *your* connection.

Finally, I'm saddened that a good program like FlashGot which works as advertised and generally has no problems would receive a 1* rating just because the gentleman below doesn't agree with the idea of a download manager? Even if he doesn't agree, why should FlashGot bear the brunt? It's NOT a download manager!

I kindly request the echohead to reconsider your review and rating.