File Details

File Size
196.5 MB
License
Freeware
Operating System
Windows Vista/XP
Date Added
June 10, 2009
Total Downloads
8,655
Publisher
IBM Corp.
Homepage
Lotus Symphony
Other Versions
Publisher's Description
Lotus Symphony is comprised of three applications - Lotus Symphony Documents, Lotus Symphony Spreadsheets and Lotus Symphony Presentations. These intuitive software tools, which support Windows and Linux desktops, are designed to handle the majority of office productivity tasks that workers typically perform. It supports multiple file formats including Microsoft Office and Open Document Format (ODF), and also can output content in PDF format.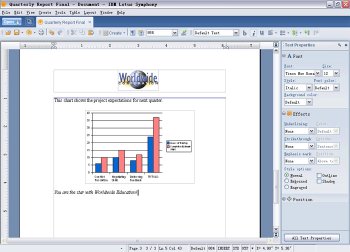 View Full-size
Latest Reviews
rfithen reviewed v1.3 on Nov 23, 2010
Comments: 2. Does it skip installing additional products? nay* While this product does not install any 3rd party products; it does use the "QuickStart" tray icon by default. (Similar to OpenOffice.) It can be turned off. 03. Does it install correctly? aye* One exception, you have to manually associate Microsoft Office extensions. Either by the options menu, or you operating system. This does not affect the initial install; but does affect the hit the ground running' functionality. 9 of 10 ayes. I prefer this over LibreOffice. Why? because one can open an Excel SpreadSheet, Word Document, and PowerPoint Presentation all in 1 Window.

..

Full review at: http://rfithen.blogspot.com/
garretthylltun reviewed v1.3 on Jun 12, 2009
It is a very nice suite which offers a clean and to the point interface offering just enough of what you would typically need to use instead of tossing a ton of toolbars and buttons in your face. Seemingly rock solid and stable as well, but it suffers greatly from one drawback which is that it is so so very slow.... In comparison to say OpenOffice, it takes near 5 times longer to load Lotus Symphony.

But if you have a superior top of the line PC and don't need all the extra features and functionality of most of the other office suites, then Lotus Symphony maybe just what you've been looking for.
H2O_lover reviewed v1.3 on Jun 11, 2009
197MB

And this makes sense,... how? Comparing to OO, MSO, or something else?
cpb reviewed v1.2 on Nov 17, 2008
206mb.
thefallenlight reviewed v1.2 on Nov 6, 2008
Nice user interface is just not enough. Slow, demanding on system resources, based on an outdated technology (OO.o 1.x). If it is supposed to be a replacement for Lotus Smartsuite then it is a huge step back.
Banquo reviewed v1.1 on Sep 6, 2008
I like the program but the process of downloading it is just horrible. Hey IBM, making your products a hassle to download is a real turnoff to people. Having to register, and then actually find the link you want...try waking up and joining us in 2008. Give users a simple way to download the version they need and stop requiring them to fill out forms.
cltx99 reviewed v1.1 on Sep 2, 2008
For the average human, it's really nice and also intuitive. I like it.
mytake4this reviewed v1.1 on Sep 1, 2008
Compared to OO Portable, the tabs for open spreadsheets is a plus. It seems to take longer to load on my computer than OO Portable, and for what I use it for mainly, the spreadsheets, I still prefer OO. You can pre-load into memory with Symphony, and it opens in about the same time frame as OO, but what's the use. The OO Portable is as fast without pre-loading for the initial spreadsheet to come up, then afterwards is the same speed as the Lotus using the optimized setting for 1GB of memory computers. I customized the OO toolbar the way I like it, find it attractive enough. Don't need Excel. Don't see how Symphony is all that much different looks wise, though as mentioned before, the tabs are nice.
anomoly reviewed v1.1 on Sep 1, 2008
Not impressed. Was like pulling teeth just to down it. During install wanted DNS access and then upon it's slow startup it then wanted to be a server too. Doesn't even have a check for update option and it didn't ask me if I wanted it to put an item in my startup folder either. It just did anyways.
While this seems to be portable as is OO, albeit about 65MB larger than OO, it is not as responsive as is OO which btw does not ask for dns or server abilities just to run. And OO is faster imo.
Granted I did not test the compatibility between document formats. If there were reason to say it IS better than OO, spell it out next time. Not impressed at all. I won't even mention the ton of crap it left in my reg upon uninstall.
And for those who have trouble using OO, maybe you should lay off the pc altogether-rediculous.
BASIC is the best word for this. OO is way more powerful in a smaller package and has much more behind it than just a logo (ibm).
netean reviewed v1.1 on Sep 1, 2008
I loathe openoffice, it's ugly and bulky and slow. Yeah it's free, but if it's a pain to use who cares.

Symphony is based on Openoffice IIRC. but looks nice, looks simple to use, has a good overall design philosphy. 90% of most word processors features are not used by most user, symphony works with that, but only showing you the most basic features until you want or need something more - then it's there for you.

This is qhat openoffice should have been like 5 years ago.