File Details

File Size
3,333.5 MB
License
Open Source
Operating System
FreeBSD
Date Added
November 17, 2014
Total Downloads
10,266
Publisher
iXsystems, Inc.
Homepage
PC-BSD
Publisher's Description
PC-BSD is a user friendly desktop Operating System based on FreeBSD. Known widely for its stability and security in server environments, FreeBSD provides an excellent base on which to build a desktop operating system. PC-BSD uses a host of popular open source window managers and uses a custom-tailored application installer that puts popular applications in easy reach of users.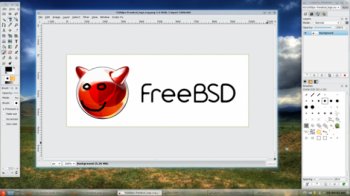 View Full-size
Latest Reviews
beeSD reviewed v9.0 Beta 1 on Aug 7, 2011
Using FreeBSD for about two years, I wanted to see how much easer it really is to install PC-BSD. Let me tell you, on an older laptop, HP Pavilion dv9000, installation was flawless. I did this about a month ago and I don't know if I want to go back to FreeBSD. FreeBSD does take a lot of tinkering to install, as oppose to PC-BSD, just pop in the dvd and you are done. By the way, this laptop, dv9000, came with Vista – totally useless, nobody was using it, so I took it and turned it into a BSD machine. PC-BSD has the makings of becoming one of the most popular operating systems, ever.
Monkey_Punch reviewed v9.0 Beta 1 on Aug 3, 2011
I have been an avid supporter of this project since its 1.5 days and continue to test and use it. 9.0 beta has amazing polish and speed improvements over 8.2. Sadly, FreeBSD hasn't been keeping up with the Joneses (read: Linux) in terms of things like X-Org server, MESA and drivers. There is work being done on getting up to speed with those projects but it is hella slow. But in terms of useability, PC-BSD beats any friendly Linux distro hands down. Great OS for those old workhorse PCs that are not quite ready to retire but still have enough oomph to do Office and basic stuff. Works well on new hardware too if you have NVidia graphics. Still built atop the most stable and secure OS out there.
scsi reviewed v8.0 on May 7, 2010
BSD distros are probably one of the best os in world today...I see here some said this is bad this is ugly...bla bla...is MacOS is bad? sure not mac os is one of bsd derivates...so first read, learn etc... then said this is bad or so...bsd was and will be one of the best OS I`we ever try, you guys need just to learn and to be patient and then every os including unix/linux distros will work for you, then you will realize that windowz is...at the end of your favorite list.

cheers! :)
Phat Esther reviewed v8.0 on Mar 13, 2010
Start live dvd ok
copy image into memory ok
start pcbsd fine looks simpatic desktop
nice
connect network cable
1 minutes nothing happened
10 minutes nothing happened
start searching an icon for network wizzard NONE
go system network config settings NONE

in 2010 released PCBSD8 an operating system without network connect

back to win7 - plug cable - tada net working immediatelly
from pcbsd1-6 fine
pcbsd 7 not able see live image
pcbsd8 looks very very nice everything but no has internet

I not testing this op anymore
the biggest shame for programmers
eazycomeneazygo reviewed v8.0 RC on Jan 29, 2010
PC-BSD OS 7.0.2 is the first in a long while colonized by Microsoft Windows. I found freedom and perfection here. Free from the fear of viruses roaming the Internet, are exempt from the data in the process of caring for defragmenting and registry. And the main thing is free of charge for everything. Next I've felt the PC-BSD 7.1.1 and now starting again with the PC-BSD 8. I also have tried to excellence and perfection of some Linux distributions, but somehow my heart was tied to the PC-BSD. Congratulations to Kris, continue to work for the progress of BSD.
smanofsteel76 reviewed v8.0 Beta on Jan 8, 2010
I don't know why I even bother downloading this. Every new version that comes out, I try to install it on my HP and it either freezes as its booting or I get nothing. In the case of PC-BSD 8.0 Beta, I get "relocating the bootloader" or some crap like that. NEVER AGAIN will I download this and waste another DVD! Sorry for the bad review, its probably a great OS, but I'll never know.
Phat Esther reviewed v7.1.1 on Jul 20, 2009
Istall from dvd error, not access setup image ??? All previous version working fine. 3x download and 3x write iso crc ok. What happened with pc-bsd ? We hope the version 8.x install working again. This was the first bad news in this project.
iamnotyou reviewed v7.0.2 on Jan 3, 2009
@pjafrombbay if you read the info at the PC-BSD web site you will see that you do not have to rely on the PBI's for your software. The 19,554+ ports for FreeBSD are available as well. Refer to the PC-BSD guide at section "1.2 Differences between PC-BSD and FreeBSD"

I am new to BSD/Linux, but I like what I see so far. I am tired of being asked to dump "old" hardware to get the new version(s) of XP/Vista/7 to run at a liveable speed/performance level. I have no need for cutting edge hardware that costs big $'s when BSD or even Linux can handle most (or all) of my needs.

I am booting to a second hard drive in my computer by changing the BIOS when I want to play with PC-BSD. If I FUBAR it ... no big deal, I'll just re-install/configure it all over again. I have picked up some books on BSD for reference and hope to be away from Windows real soon now.
myboy reviewed v7.0.2 on Dec 30, 2008
Doesn't play well when you have an existing Windows partition. Windows won't even be an option when you boot up. And for some reason, the Windows partition became unrecognizable in GParted (which by the way, didn't come with PC-BSD and you have to do all that stuff yourself beforehand). These problems cropped up even after I dedicated some space for PC-BSD. *sigh* I had to reinstall Windows. Perhaps this OS is better suited for those who do not want to dual boot or those with more tech savvy than I. This will teach me not to use auto partition next time. The benefits of this OS is negated by the horrible installation experience.
netean reviewed v7.0.2 on Dec 13, 2008
I like it, more than any other linux distro I've used (although I can't exactly say why, you'd think KDE is KDE anywhere!)

on the downside, it does require a lot of hard drive space for a base install. OK, I DO get a few extra apps in that, Openoffice, K3b etc, but it still seems quite a large base install - obviously not VISTA big (what is!), but larger than I would have hoped.

also pity it has to come on 3cds or 1 dvd, it's a hefty download.
and no livecd which is also a shame