Publisher's Description
POP Peeper is an email notifier that runs in your Windows task bar and alerts you when you have new email on any of your POP3, Hotmail, MSN, Yahoo, Mail.com, MyWay, Excite, Lycos.com, or RediffMail accounts. Send mail using your SMTP server or through your webmail account directly from POP Peeper. It supports HTML email, so you can see your email the same way as you would in your email client. Several options are available that will decrease or eliminate the risks of reading your email (viruses, javascript, webbugs, etc). If you share your computer, you can password-protect your accounts or password-protect access to POP Peeper.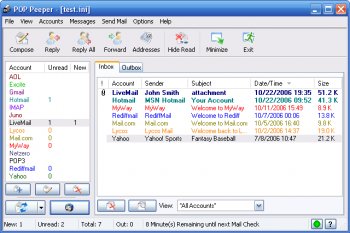 View Full-size
Latest Reviews
Zootopia3001 reviewed v4.0.1 on May 28, 2015
Years of use here. Solid email app. New version has larger MB installer, but if you uncheck the Pro features, it is still light as a feather, and only uses about 7mbs of memory in the background.
Zoroaster reviewed v4.0.1 on Apr 23, 2015
Excellent- Basically an email notifier, Pop Peeper is fit to serve as an email client as well. I use it as a notifier hence as a filter tool archiving spam before deleting it hence preventing my email client from being polluted with trash. Handles all email protocols.
This version 4 is a major update offering enhanced options in its paid version but keeping (and even optimizing) the free version attributes (same installer for both). I've been using Pop Peeper for years, a true email companion. Rating is 5+
dhry reviewed v3.8.1.0 on Jun 12, 2014
The v4 beta has been out for well over a year now, and this guy's only just put out 3.8.1.0? Nonetheless, I use this all the time, it's basically the best multiple mail account checker available.
Betanoob reviewed v3.8.1.0 on Jun 11, 2014
@PumaPuma

PP is the best.
That GM sh1t that you wrote is one big TURD!
Go cry. You will never have a program like PP.

@Jetz
You summed it up perfectly!
PumaPuma reviewed v3.8 on Jan 10, 2012
bloat bloat bloat bloat. Gmail Notifier Plus is so much better. I don't want all this crap, I just want to check my email!
jetz reviewed v3.8 on Aug 30, 2011
Best email app on the planet! Truely one of the greatest in software history.
Been using this since the early days. And I just purchased the premium addon pack today.
Plumber reviewed v3.6 on Sep 16, 2010
I downloaded this application thinking it would be just another piece of digital crap, mainly because I've installed thousands of applications over the years, and ... oh I'm just spitballing here, but probably 95% of them are crap.

However, this is a great application, especially given that it's free. Nice interface, nice customizability, nice everything. In fact, the only thing I need Thunderbird for anymore is when I want to save a message long-term. Other than that, for sending/receiving, this is it.
FreeSpeech reviewed v3.6 on Mar 15, 2010
Still the best and still free! Worth donating!
Tigris reviewed v3.5 on Mar 15, 2010
3.6 is out!
anomoly reviewed v3.5 on Sep 30, 2009
too funny. The only way to get it is from download.com -your respected resource (cough)
The one & only client which isn't but is. sweet