File Details

File Size
2.1 MB
License
Freeware
Operating System
Windows Vista/XP
Date Added
March 15, 2010
Total Downloads
2,993
Publisher
The Best Ware Studio
Homepage
RadioSure
Publisher's Description
RadioSure gives you the smoothest radio listening expirience. The main rule is it should be simple, reliable and should just work.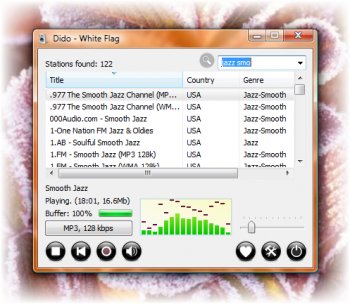 View Full-size
Latest Reviews
Ulmo reviewed v2.0.886 on Jun 11, 2010
Almost perfect.
But no way to change the Hot Keys.
Since Alt+Shift+R means refactoring in Eclipse, I start recording radio instead. :s
I'll try to find an alternative...
radiomaffia reviewed v2.0.886 on Mar 15, 2010
Radio Shure is goiing to install in....\....\Local Settings\Application Data\RadioSure?????Better create a folder in C\Program Files\Radio Shure and browse to there before installing!!!
But, lets see:
Standard Skin is very very basic...hmmm
It doesnt work with Genre directories, just listing 12000+ stations??wtf..
You can not ad your own url? blurrr
This app is prehistoric and garbage!! Screamer Radio : I love you even more now!!
Tigris reviewed v2.0.872 on Mar 15, 2010
2.0.886 is out!
Haaglander reviewed v2.0.872 on Dec 23, 2009
Best Web radioplayer afaik
stisev reviewed v2.0.872 on Jun 14, 2009
If you want to listen to radio on Windows, this is the program to get, HANDS DOWN.

1) Lightweight
2) Portable
3) Free!
4) FAST
5) Feature packed!
6) Did I mention PORTABLE!? (HELL. YES!)
TomRC reviewed v2.0.872 on May 28, 2009
Replaced Screamer Radio in about 5 Minutes for me. Very pleasant and responsive UI. Simple and smart.

@dhry:

1. RadioSure was never indented to be a complete Mediaplayer. You compare apples with bananas.

2. RadioSure is as it is a great and free Webradio-Player with a fine default skin. Period. Therefore its ok for me if there are some sales efforts to get some cash out of this.
dhry reviewed v1.8.838 Beta on May 23, 2009
Not a bad program. Subtracting one star because Spider Player is better, subtracting another because you have to PAY for some of the skins! WTF?!
myboy reviewed v1.8.838 Beta on Apr 21, 2009
Fast, simple, and even a portable version. A great way to listen to the radio of the world.
anomoly reviewed v1.8.838 Beta on Apr 10, 2009
This uses un4seen's web protocols I believe. Does work through proxy, such as vidalia but it does need a direct connect option.
I stopped using screamer simply because it was mostly impossible to correct, update, or do anything with it's 'presets'. This?, just type the call sign letters in and let 'er rip. The latest dev has a few skins (bluedot) and is totally portable.
cltx99 reviewed v1.8.838 Beta on Apr 10, 2009
It's excellent. the search function is very good. Yes, some stations don't work, but that's to be expected. The choice of stations is vast. For example, I punched in "talk English" and and came up with 1092 station entries, including international stations. Well done. To me it's much better than Screamer and far better than iTunes radio that I have been using. Good bye iTunes!