File Details

File Size
66.1 MB
License
Freeware
Operating System
Windows (All)
Date Added
August 6, 2019
Total Downloads
32,483
Publisher
eRightSoft
Homepage
SUPER ©
Publisher's Description
SUPER © is all you need if you need a simple, yet very efficient tool to convert (encode) or play any Multimedia file, without reading manuals or spending long hours training. It is a multimedia encoder and a multimedia player, easy-to-use with one simple click.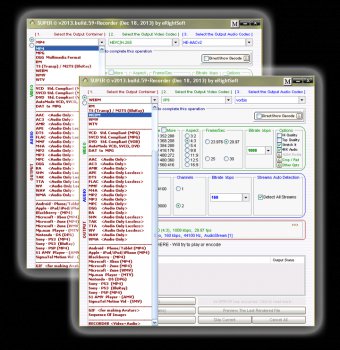 View Full-size
Latest Reviews
whatdoesmeans reviewed v2016.build.69 on Sep 12, 2017
You will be able to manipulate the proggy using it..!!
theresamoore143 reviewed v2016.build.69 on Oct 15, 2016
This is awesome and I'm going to give you 5* review.
http://www.alltechzoom.c...out-internet-from-today/
karan98 reviewed v2016.build.69 on Sep 21, 2016
thanks for sharing this amazing post.
https://superboxs.com
http://www.techlessions....ed-premium-account-2016/
http://www.techlessions....atus-messages-quotes-dp/
Harsh Sharma reviewed v2015.build.64 on Apr 2, 2015
Yeah Nice Post Sir..... Awesoem... thing i seen today in my life....
http://www.overdownload....ownload-free-64-32.html
http://www.nextleveltric...3-in-vmware-workstation/
BANDIT- reviewed v2014.build.60 on Feb 19, 2014
Click the "Download" link above & you are sent to @eRightSoft on a tedious mission.

To help you NOT to "Break your Brain", here is a download link & a
mirror for an Installer (362kb). If this Installer DOESN'T trigger your Anti-Virus.... Change your A/virus software.
@http://www.afterdawn.com/software/general/download_splash.cfm/super

Launch the Installer & UNCHECK all options. Select to Install "super" & the files will come down. Select to "Save". DO NOT install yet. The App is called MAIN.exe (63.206kb) & is Downloaded to here..
C:\Documents and Settings\~user~\Local Settings\Temp\...main.exe
Copy/Paste it to your desktop, THEN you can close the Downloader/Installer.
NOW you can DELETE all the Krudd from ... ~\Local Settings\Temp\
The File is now yours to do as you will..??

It contains Kosher files (No Bogeys) IF at all possible you know how to
unpack Installers or make App's portable. I would suggest the Latter.
IN the App folder, there is a config file..... Super.ini
You will be able to manipulate the proggy using it..!!

From here... You're on your own.

What i think about the ridiculous "RunAround" for this App, (You can probably guess). AND for all the work to get it on board & launch it...
TO BE INFORMED.. There is an upgrade available....
What a Fkn load of crAAAAAp. AND lol. The UI is dreadful & Too Busy... ( _ º _ )
egg83 reviewed v2012.build.54 on Nov 20, 2012
Yay! I found where you can download this program from! The download link is in the middle of this page: http://www.erightsoft.com/S6Kg1.html
It is a good program. If this was shareware, would probably have a direct download link! :]
Ball Sacks reviewed v2011.build.49 on Jan 30, 2012
100% just takes about 6000 hrs to find the download link.
bopb99 reviewed v2011.build.49 on Jul 6, 2011
Once you find the right combination of codecs and formats, container it works better than anything else I've tried.

Too bad for OpenCandy.

Anyone tested out the compression of the Dirac video format?
Version: v2011.build.49 (July 1st 2011) has added support for Dirac in MKV and other containers (AVI and MOV). (encode, play and render)

I don't see why most people complain about the interface.
You need it to do it's job right. All the rest doesn't matter so much.
I don't think it's such a big step down compared to other programs in terms of GUI as other reviewers make it out to be.
Prospero424 reviewed v2011.build.47 on Mar 15, 2011
Yeah, it includes the same "Open Candy" spyware that MediaInfo does, which is why it's being tagged as malware.

The interface is, to my mind, pretty awful. I don't see any reason to use this over Handbrake, HDConvertToX, or MeGUI. And really, who wants their encoder to be their media player, especially when it's this ugly?

Fatally flawed concept and execution saddled with spyware that doesn't even ask before it runs. I don't see how it gets much worse.
wingnut222 reviewed v2011.build.44 on Feb 2, 2011
Windows says it's an unsafe download/install. Viruses, etc.

I used it previously and sometimes it worked, sometimes it didn't.

New computer; not risking the "unsafe" thing.