File Details

File Size
20.6 MB
License
Shareware, $2999.95
Operating System
Windows (All)
Date Added
June 30, 2020
Total Downloads
53,919
Publisher
Rhino Software, Inc.
Homepage
Serv-U
Publisher's Description
Serv-U is a powerful, easy-to-use, award-winning FTP server. An FTP server uses the FTP protocol to share files across the Internet. It is not only 100% compliant with the current FTP standard, but also includes numerous features that make it a perfect file sharing solution for virtually everyone. Regardless of the purpose behind your FTP server, everyone will benefit from the numerous security features Serv-U incorporates. When you're using Serv-U, you'll be able to: Restrict directory & file rights, Deny or allow IP addresses, Monitor user actions in real-time, and Log all commands from users. Security settings are customizable for each user and group.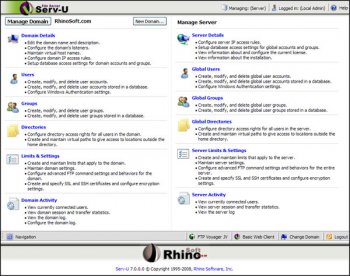 View Full-size
Latest Reviews
uberfly reviewed v14.0.2.0 on Apr 19, 2013
This is commercial-grade software. TONS of well-done abilities. Awesome FTP and web front end file server. If you don't need all this by all means stop whining and use one of the free or cheap servers. Otherwise, serv-u is undeniably full-featured and great.
nedstark reviewed v12.0.0.2 on Jun 8, 2012
It's not free, but you get a lot of bang for your buck!

Also found a chart that does some FTP server price/feature comparison here:
http://www.serv-u.com/vs_commercial_servers.asp
nvic reviewed v10.5.0.21 on Aug 4, 2011
Absurdly expensive for an FTP server. I'll stick with Filezilla Server or Pureftpd.

Also, not sure why betanews lists it as "Shareware $49.95", because the cheapest version available (which is missing most of the features) is four times that at $199.95...and that's without the upgrade and support plans.
wftpserver reviewed v9.4.0.0 on Apr 15, 2010
It is so expensive! I can't afford.
browning3 reviewed v9.0.0.3 on Oct 9, 2009
It just keeps getting better!! They have added everything I requested in previous versions. Full UNICODE support, SSH public key auth, DLL integration support, user added events for emailing info to the users, and a ton of other stuff. Just check out the release notes list: http://www.serv-u.com/releasenotes/. Not much out there that comes close in terms of features at this price point. Just take a look at Globalscape and IpSwitch prices for their high end server. Not even close.

AWESOME!!!!
uberfly reviewed v9.0.0.3 on Oct 6, 2009
Absolutely awesome features, but expensive as hell.
Diam0nd reviewed v9.0.0.3 on Oct 6, 2009
This says more than a million words: the cheapest version costs $200...

http://www.serv-u.com/pricing.asp

They need a reality check, ESPECIALLY with that kind of crappy-ass ftpd.
Diam0nd reviewed v9.0.0.1 on Sep 30, 2009
Bloated. Slow. Overpriced. Lacking features.

Need an ftp to manage remotely - ioFTPD is #1 choice. Need solid ftp server for home use - RaidenFTPD is the best way to go (simply because "gui" [if we can even call it that] of io is so terrible).

io is free an amazingly flexible. Raiden is not, BUT for the price of Serv-U you can get 2 Raiden licences AND Serv-U doesn't even offer half the features Raiden's packing.

Conclusion: stay away.

P.S. $199 for the cheapest version?! Are you people out of your ffin mind? O_o
sorlag reviewed v8.0.0.1 on Mar 24, 2009
$500-$111,000 a year for 1 to unlimited servers a year is simply crazy...
The old versions where good... the new ones get more bloated and overpriced each and every version...

I don't like this version anymore...
emanresU deriseD reviewed v8.0.0.1 on Mar 24, 2009
$500 as the entry-level price for an FTP server with a crap interface and features I can get elsewhere for 1/15th the price? Yeah, uhhh... I'll get back to you on that, RhinoSoft. Did the price of crack cocaine go up or something? They're obviously on something...