File Details

File Size
7.9 MB
License
Open Source
Operating System
Windows (All)
Date Added
January 31, 2018
Total Downloads
9,997
Publisher
Hiroyuki Yamamoto
Homepage
Sylpheed
Publisher's Description
Sylpheed is a simple, lightweight but featureful, and easy-to-use e-mail client. It provides intuitive user-interface. Sylpheed is also designed for keyboard-oriented operation, so it can be widely used from beginners to power users.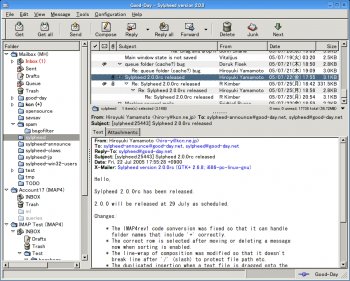 View Full-size
Latest Reviews
darkNiGHTS reviewed v3.4.2 on Jun 30, 2014
Email with people in the 21st century? This email client doesn't support any kind of layout, just plain text. Images are displayed as links turning newsletters into unreadable blobs of text. I've read it's intentionally not supported - too bad for a pretentious attitude ruining an otherwise great e-mail client.
FatBastard reviewed v3.2 Beta 2 on Aug 16, 2011
This is a stupid program. It doesn't let you select language :(
anomoly reviewed v3.1 Beta 6 on Dec 27, 2010
I've been using the latest devs and noticed that it occasionally will use up to 400mb of memory for some reason. Sitting idle as it does most of the time it is using quite a bit atm around 80mb. If your looking for something super light weight checkout komamail. This has encryption which koma doesn't but you have to have gpg4win installed and running for that even to work.
Don't forget to down bsfilterw.exe (or other) if you are running it in portable mode. I did not realize the exe was even missing til just now and thought it was working. Beta 5 review
anomoly reviewed v3.1.0 Beta 4 on Dec 9, 2010
Beta5 came out the ninth
anomoly reviewed v3.1.0 Beta 3 on Aug 18, 2010
I still can't drag the total column. It stays stuck to the view pane and will disappear if the view pane is too close to the accts column.
BTW, in portable mode DO NOT simply overwrite the theme files. If you do and try to use it in an envirinment without gtk, it may not display a legible font at all.
anomoly reviewed v3.1 Beta 1 on Jun 28, 2010
In this latest awesome version I tried to change the theme and it did not work for some reason. So I deleted all but the MS-Windows folder theme and copied the theme I chose in gtk (metal) (just the root file gtkrc) to the ms-windows one and it worked perfect.
The only gripe is the total tab which is locked to the border it sits next to. If you pull the border too close to the folder tab, the total tab disappears. minor
Using it in portable mode.
asaenz reviewed v3.0 Beta 3 on Dec 14, 2009
This was such a breath of fresh air after trying some of the other email clients and I think I'll continue to use it ... hope it keeps up with the times.
anomoly reviewed v2.7.1 on Oct 2, 2009
271 does not work at all for me. Why is ssl at 0985?
anomoly reviewed v2.7.0 on Jul 23, 2009
Works excellent. OpenSSL is old (0.9.8.5 ?); http://www.shininglightp...Win32OpenSSL-0_9_8k.exe.
GTK runtime & themes:
http://gtk-win.sourceforge.net/home/index.php/Downloads
timbuctoo reviewed v2.6.0 on Mar 22, 2009
The fastest and feature packed e-mail I have used. Supports IMAP too.

5 stars for being everything, and open source!

@anomoly: Thank you for letting know how to change the theme. I was scouring all over the web trying to figure how to get it done.