File Details

File Size
6.9 MB
License
Shareware, $29.95
Operating System
Windows (All)
Date Added
June 14, 2018
Total Downloads
31,328
Publisher
Softpointer Inc.
Homepage
Tag&Rename
Publisher's Description
Tag&Rename is a music files tag editor that easily handles all popular digital audio formats. No matter what music compressor you prefer, you can keep your music collection organized since it is the only tag editor and organizer which has full native support for: mp3 (ID3v1, ID3v2.2, ID3v2.3 and ID3v2.4 tags), MusePack mpc/mp+ (APEv1, APEv2 and ID3v1 tags), Windows Media wma, asf and wmv files, Ogg Vorbis/Flac/Speex (vorbis comments), Apple iTunes and iPod aac (m4a) files including mp4, lossless m4a and protected m4p files, most popular lossless codecs including Monkey's Audio, Flac, Wav Pack, Optim Frog, True Audio, Apple, Windows Media lossless and Wav.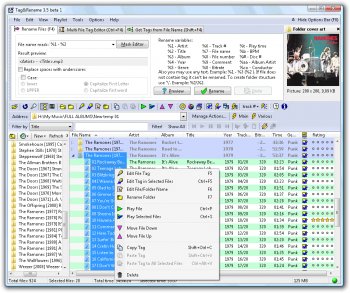 View Full-size
Latest Reviews
DKDude reviewed v3.9.14 on Jun 16, 2017
Still best tool for handling/tagging music files, it tags even files the free tools can't handle. Worth every single penny.

If you don't need all the nice features and support for all formats, then go for the free tools, but do not expect to get more than you pay for, after all they are free.
Slug_Coordinator reviewed v3.9.12 on Jan 30, 2017
Freeware Mp3Tag or Musicbrainz 30.00 for this is 29.99 too much.
DKDude reviewed v3.9.3 on Dec 9, 2015
Hands down, this is the best tool for tagging your music, it is worth every single penny.

Keep up the good work.

MP3tag is a fine tool, but Tag&Rename supports way more formats than MP3tag, just to mention one "WAV" + all the other nice features that MP3tag is missing.
Venomsword reviewed v3.8.1 on Jul 3, 2014
Best tagger around. I use it almost everyday. Tried a lot of free apps of that kind and Tag&Rename beats them all. Flawless victory.
svkowalski reviewed v3.5.7 on Nov 17, 2010
Long time user, can't do without it. It excels at managing large collections. The UI is well-designed to enable bulk changes in an intuitive way. Well worth the shareware cost.
JackRegan reviewed v3.5.6 on May 16, 2010
30 bucks? no no and no.
JeremyP reviewed v3.5.6 on May 14, 2010
Excellent, excellent tagger, and worth paying the small amount for the Gold version. Wouldn't be without it - I have some 4 Terabytes of music in my library, all tagged by this program
Pkshadow reviewed v3.5.6 on May 14, 2010
Gave a 4 because of what it says it can do.

All the BS going on does not tell me where and what free program does what this does as it is Shareware!

So come forward and tell me what programs will stand up and hold and lock and prevent a program from changing the ID Tags as I need ID3v1 and once I listen to it on my computer a frigging program converts it up or edits it with out asking.
I want to be asked if a program can convert my file or a option to lock it into ID3v1 so that I can burn and listen in my car with out having to upgrade a great stock player in my Grand AM.
This is for all developers and established programs.

Ask before you convert my files to un-playable.
You have NO right to convert with out asking!!!!!!

This is more of a rant to all others as this program gives conversion.
As to working with it and usable I will let someone else comment as I would like feedback as I am sure the Developer does and the trickle down may (shrug) change established taggers/music programs from converting with out asking.
plasticpig72 reviewed v3.5.4 on Nov 17, 2009
It has, wrongly, such a low rating because of the way this site scores. How can review from 2003 when the program was nothing like it is today (though even then it was brilliant) accurately reflect the position today. The review should be done on something like a 12 month revolving situation, that wouuld more accurately reflect the position. Look when the bad reviews for this are, how can this be meaningful.
Tenoq reviewed v3.5.3 on Sep 21, 2009
Why does this have such a low rating? One of the few shareware apps out there that is worth the money. Does what it advertises and more, and it does it a damn-sight better than anything else. Very impressive app. I love Tag & Rename.