File Details

File Size
2.5 MB
License
Freeware
Operating System
Windows (All)
Date Added
August 31, 2015
Total Downloads
8,216
Publisher
Darq Software
Homepage
Transmute
Other Versions
Publisher's Description
Transmute is a bookmark converter that can import and export bookmarks, or favorites, between the latest web browser bookmark formats such as Google Chrome, Firefox, Internet Explorer, Opera, Safari, Konqueror, Chromium, Flock, SeaMonkey and XBEL.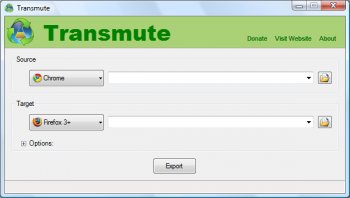 View Full-size
Latest Reviews
nilst2006 reviewed v2.06 on May 28, 2010
Tested 2.06 Standard converting from Firefox 3.x to Internet Explorer. 30 percent of all folders in IE Favorites remained empty. Therefor i give it a 1, should be -1000....
aruprc reviewed v1.66 on Nov 27, 2009
Excellent, I transferred bookmarks from Opera to Chrome and IE8 without any hitch.
Kylde reviewed v1.66 on Nov 26, 2009
does the job perfectly, synced up firefox, opera, chrome and IE in seconds
DrTeeth reviewed v1.62 on Oct 10, 2009
Pointless. I have yet to come across a browser that will not export or import its bookmarks.
Second Shadow reviewed v1.55 on Jun 27, 2009
The download link here takes you to Transmute's homepage, where they try to push you to get the shareware version (Transmute Pro)
Also, version 1.56 is already out.
So here's the direct download link for the freeware version Transmute 1.56: http://www.gettransmute....d/Transmute156Setup.zip
Morningdove reviewed v1.54 on Jun 22, 2009
Well psycros... your're missing out on a lot of good programs, including this one.

Why not just delete any unwanted shortcuts?
Zoroaster reviewed v1.51 on May 15, 2009
Excellent, as far as I'm concerned, especially since version 1.5 which had adopted the shareware version engine. I'm referring only to what I use it for, that is Firefox => IE. First I empty IE's folder completely, than I "transmute", than I remove a few Mozilla-only bookmarklets, et voila.
Great app.
psycros reviewed v1.10 on Feb 13, 2009
Installing icons in the root of the Start Menu and the desktop without asking the user is arrogant and amateurish. Any program that takes this route has no place on my system.
Where has this been all my life? Brilliant
Satansgeek reviewed v1.08 on Dec 23, 2008
All that it does it does flawlessly yet I'd be happier still to see support for additional browsers added to the mix...Seamonkey, K-Meleon and Orca spring to mind.