File Details

File Size
0.4 MB
License
Open Source
Operating System
Windows (All)
Date Added
October 12, 2012
Total Downloads
10,324
Publisher
Johan Piculell
Homepage
VirtuaWin
Publisher's Description
VirtuaWin is an Open Source, virtual desktop manager for Windows which can organize applications over several "virtual" desktops. For example if you use two virtual desktops you can put a Web browser on desk 1 and by using a desktop manager "switch away" the Web browser and it will seem like you have a new empty workspace (desk 2) to put another application/applications on. The program supports up to 20 desktops, configurable key/mouse control, user defined icons, modules for additional features, and much more.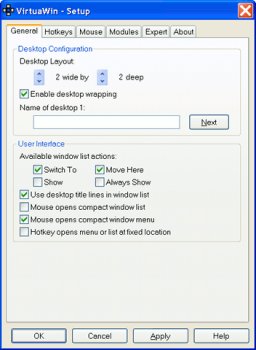 View Full-size
Latest Reviews
sweathog reviewed v4.2 on Mar 29, 2012
I like Dexpot better, if you are into this sort of stuff. But I agree with Aegis69, I don't get multiple desktops unless you require100% screen real estate 90% of the time or have a very tiny monitor. Just takes up CPU cycles and memory for no reason, seems to me....
anomoly reviewed v4.2 Beta 1 on Dec 8, 2009
I only installed this for the majic jack gui. It pops up whenever you make a call and at boot and when you get a call. In other words it won't go away. Now it does, as it resides open on a separate desktop at all times. I opted for three so that I actually have 2 available desks. Add the icons for the Transparent Numbers (3x3 dig is cool) and use a 3x1 tray. F6 for 'move to next'. It uses like 5MB with no plugins and virtually zero config.
MS's is nice but their tray icon is a lame box type.
There are also a few progs that when open are fs with no escape except to exit.
Aegis69 reviewed v4.2 Beta 1 on Dec 7, 2009
I just don't get multiple desktops, never have and I guess never will. I even shut off multiple desktops when I do fresh installs of Ubuntu. I can have 30 apps all minimized and I can get to them just fine without switching to another 'desktop'

Will someone Please explain to me why additional desktops are useful?
Diam0nd reviewed v4.1 Beta 2 on Oct 8, 2008
Nice. One of the best virtual desktop managers around. But I'd never use it. Interface is kind aclunky and akward.

I prefer Microsoft Desktops: http://technet.microsoft...internals/cc817881.aspx
war593122 reviewed v4.1 Beta 1 on Jun 4, 2008
Almost perfect now that is supports Taskbar shuffle!!
Nighted reviewed v4.1 Beta 1 on Jun 3, 2008
What's new in VirtuaWin 4.1 beta 1:
Added new dynamic taskbar order feature to support Taskbar shuffle.
Added dynamic taskbar button removal option as a better fix to long standing issue.
Re-implement taskbar activation option to be a window rule option.
Added crash handler and reimplemented showHelp to avoid rare crash
Close spawned module process handles.
Implemented NAV: Return to last desktop hotkey command.
Improved SetForegroundWindow so focus can be given back to desktop.
Force redraw of activated window hidden using toolwin flag.
Fixed handling of close message so it does exit VW if requested.
Made process name string comparisons case insensitive.
Added portable unicode package creation.
netean reviewed v4.0.1 on Apr 25, 2008
works as it should and has always worked with Photoshop CS3 (at least it has on my machine). On my system photoshop works with virtual desktops just like every other application.
gchenry reviewed v4.0.1 Beta 1 on Apr 15, 2008
I think that Dexpot is the best but I use WinSpace Lt Ver 3.0. You can't get it from TriPlus but
you can Google it. They will not answer emails
for this freeware so don't bother requesting
a Serial-Number but you can use this..

90-ws52940059-672

I think the best feature is mouse-knocking.. just move the mouse to the edge of the screen and
left click and you are in a new desktop. You can also drag and drop to other desktops.. use the map
to see how this works. The size in mem is less than 12M.
reets reviewed v4.0.1 Beta 1 on Apr 14, 2008
Wow! Great program, does exactly what I like and works much like the Ubuntu desktops. Glad it changes the taskbar also because that (for me) has been the downfall of most windows desktop managers.
roj reviewed v4.0.1 Beta 1 on Apr 14, 2008
One can hardly blame Adobe junk on VirtualWin. The vendor has a long history of rolling its own and not following the standard APIs (Lotus is another pathetic example) so that is likely the cause of your "issues". As to Windows 9x, that's a joke, not an OS.

FOUR stars.