File Details

File Size
3.6 MB
License
Shareware, $19.95
Operating System
Windows (All)
Date Added
November 9, 2022
Total Downloads
10,927
Publisher
KLS Soft
Homepage
WSCC
Publisher's Description
WSCC (Windows System Control Center) is a Windows application which allows you to install, update, execute and organize the utilities from various system utility suites. WSCC can install and update the supported utilities automatically. Alternatively, WSCC can use the http protocol to download and run the programs. The portable edition doesn't require installation and can be run directly from a USB drive.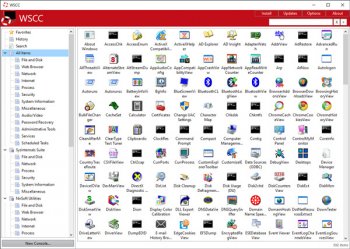 View Full-size
Latest Reviews
jack_alexander reviewed v3.2.9.1 on Aug 31, 2017
The web page says free for personal use....
rj65 reviewed v3.1.1.2 on Jul 22, 2016
Love this program, but version 3 is no longer free. It costs $19.95 as per http://www.kls-soft.com/wscc/downloads.php

Version 2.5.1.0 which I'm still using, is great but it seems to miss updates of a few Nirsoft utilities, as well as some newer published utilities. Maybe the author isn't updating the older freeware version any more?
roymccoy reviewed v3.0.0.2 on Apr 24, 2016
This brilliant program deserves at least a full size preview picture!
http://www.stooorage.com...412/19997627_wscc-3.jpg
kstev99 reviewed v3.0.0.2 on Apr 23, 2016
Love this. Have used it for years, but I use the portable version and this new version 3 seems incomplete. It overwrites my favorites and there is nowhere in the setting to tell it where the nirsoft and sysinternal folders are located. I had to revert back to an older version
uberfly reviewed v2.2.1.6 on Apr 25, 2014
Been using this for a few months now and it really is a great front end for these two titans of computer utilities. Very nice.
andrewtheart reviewed v2.2.1.0 on Nov 21, 2013
Incredible. With this toolkit you do not need anything else for diagnosing an issue on your PC. Nirsoft + Sysintenals is a dangerously powerful combination.

would rate 10000 stars if I could.
stisev reviewed v2.0.5.0 on Jun 28, 2012
This is a GODSEND if you use nirsoft and/or sysutilities.

What a beautiful, portable, easy way to update these software.

I owe the developer my sincerest gratitude!
uzi reviewed v2.0.3.0 on Oct 4, 2011
Extremely useful organizer for many powerful technician utilities.
One may put WSCC in a specific folder, define the location of the files to be on a subfolder, and take it on a portable drive/Dok to use it on other computers as well. Makes the management and use of Nirsoft's and Sysinternal's utilities much simpler and faster.

I'm reviewing version 2.0.3.1

Great idea.
Stoerpser reviewed v2.0.0.2 on Jun 11, 2011
It seems that WSCC is no longer suporting Win98SE!
os2fan2 reviewed v1.9.1.1 on Jan 22, 2011
The nirsoft version of this allows you to create a third grouping which you can put other vendor's applications in. You are not restricted to just these two.

It's some how a pity that this one misses out on that.