File Details

File Size
4.0 MB
License
Open Source
Operating System
Windows 2000/Vista/XP
Date Added
September 1, 2012
Total Downloads
18,688
Publisher
Christian Kindahl
Homepage
InfraRecorder
Publisher's Description
InfraRecorder is a free CD/DVD burning solution for Microsoft Windows. It offers a wide range of powerful features; all through an easy to use application interface and Windows Explorer integration.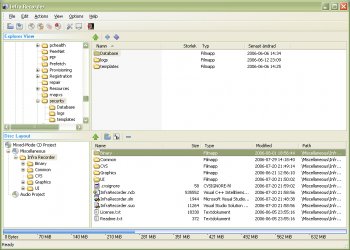 View Full-size
Latest Reviews
dctoe reviewed v0.53 on Mar 31, 2015
Works very well on my Dell laptop running Windows 8.1 x64.
boaz reviewed v0.53 on Jun 11, 2014
This has a nice simple & clean interface, and it's free. I work on PC's/Laptops, and usually install this for people. My clients say that they find it easy to use. CDBurnerXP is also not bad either. http://fileforum.betanew...CDBurnerXP/1086612184/1
some guy reviewed v0.53 on Sep 4, 2012
windows 98 ? imageBurn all they way !
Landsnes reviewed v0.52 on Apr 27, 2012
Good!

I've been using this program for years now, on Win7 64bit. No issues, no failed burning projects and no disc copy errors. Copying discs to ISOs is extremely useful.

However, development rate has dipped, though I'm sure the author would be more active if he could. After all, spare time software development beside work is extensive. One feature that should be considered for future releases for those who use them, is Blu-Ray disc support. Other programs have this though, like ImgBurn, but would be cool to see the feature in an open source application.

Still, not enough to warrant a lower score.
roj reviewed v0.52 on May 17, 2011
Completely redeemed itself with this release.

FIVE stars.
pjafrombbay reviewed v0.50.0.0 on Jun 5, 2010
This software is rubbish! It is supposed to be a CD burning app. Well I cant find any way of burning songs stored as MP-3s to a CD. Much better to use Deep Burner or CDBurnerXP.

Save yourself some grief; don't download this junk!

Regards,
Peter
roj reviewed v0.50.0.0 on Apr 1, 2010
Badly broken in this release - I have no idea how it passed QA Testing.

- Turns off "View Desktop Icons". Any program that usurps priveleges to do this has serious issues. Launchy does something similar and it too has never been addressed.

- Will not accurately see burn speeds of my LG DVD burner. ImgBurn, CDBurner XP pro have no problems. This program reports 7x when the actual capability using the particular media in question (TDK DVD+R 16x) includes 8x.

- Will not burn data DVDs. Produces an error message that some drives don't like closing the burn session. The aforementioned programs have no problems.

- no icon for 64-bit version.

- pathetic forum support. Many of these issues have been repeatedly brought up and there is no acknoledgement that there is a problem or offer of a fix.

Apparently the program was reasonably fine until this release. I didn't use it heavily prior to Windows 7, but what I see now is not worth the download. The author needs to SERIOUSLY get it together NOW. Until then I can wholeheartedly recommend ImgBurn.

ONE star for a disastrous update that is pretty much garbage and adds far more bugs than it removes.
anomoly reviewed v0.50.0.0 on Mar 29, 2010
If you need coasters try burning an iso it makes.
DudeBoyz reviewed v0.50.0.0 on Oct 5, 2009
It doesn't seem to be able to format DVD+RW's and does not reliably burn BIN / CUE images. Tested on 2 machines and other apps did the work without issues.

Free is great, but working is better.
And| reviewed v0.50.0.0 on Aug 18, 2009
I have used Nero, ImgBurn, CDburnerXP, Burnaware and a few others.

None of which I have been nearly as happy with, as I am with Infrarecorder. It does pretty much everything you can think of, it is light, it is free and it is an active project.

My kudos goes to the developer. Best piece of burning software, if someone was to ask me.