File Details

File Size
1.1 MB
License
Freeware
Operating System
Windows (All)
Date Added
December 25, 2014
Total Downloads
3,311
Publisher
G&G Software
Homepage
Mouse Hunter
Publisher's Description
Mouse Hunter is a free utility that optimizes the work with the mouse wheel under MS Windows. When you rotate the mouse wheel scroll the UI element, that is located under the mouse cursor. But not the element, that has the input focus (which responds to input from the keyboard) - as it usually does in Windows.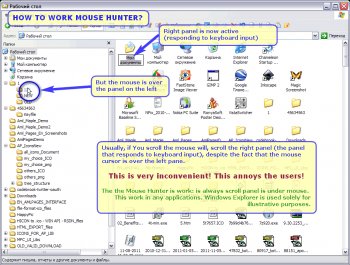 View Full-size
Latest Reviews
jotte_ct reviewed v1.52 on Nov 7, 2012
for couple of months now, still waiting for a promised 64-bit version... :)
MazovGosha reviewed v1.50 on Aug 17, 2012
2TuxmanXP
1. Icon on tray need for settings and beginner users.

2. This software is freeware.
I did make this software for me, for me, and for me. But not for You :).
Settings dialog is the test of other technologies of programming (HTMLayout). But settings dialog does not work permanently, only for settings (see to size of the file MhConfig.exe, and compare with size of running module MhAgent.exe)
TuxmanXP reviewed v1.50 on Aug 17, 2012
I wonder why this one needs a tray icon for this simple task. And a settings dialog. Bloated. But it works, so: 2 stars.
Sativarg reviewed v1.43 on May 29, 2012
Reply in discussion tab...
Mostly apology for wasting time with trivialities,,,
jetz reviewed v1.43 on May 29, 2012
WizzMouse is better, uses less memory, and has no bugs like this.

http://antibody-software.com/web/index.php?ref=wizmouse
MazovGosha reviewed v1.43 on May 29, 2012
2Sativarg:
1) Scrolling of comboboxes... I think., this is not good idea - scrolling of a closed combobox. This is strange behavior for user (imho)

2) >> here are the drop boxes that scroll when one wants the main window to scroll
I work under this solution (scroll of a scrollable windows under scroller).

3) >> IrfanView is locking up while Mouse Hunter is running if I try the scroll wheel and have the feature not to scroll selected.
Tell me more information, please.

2jetz:
Mouse Huner is 26 Kb (kilobyte!!!) RAM the native API-code and :)))
MazovGosha reviewed v1.42 on May 28, 2012
2Jotte_ct:
No! Now is available 32bit version only. Support of 64x is planned in next releases.
jotte_ct reviewed v1.42 on May 22, 2012
still no x64 (64 bits) version?
Sativarg reviewed v1.42 on May 21, 2012
NVIDIA Inspector 1.9.6.5 download from Guru3D.com - http://downloads.guru3d....1.94-download-2612.html

Has scroll bars and drop/combo boxes that are very annoying because the rows are scrolled if selected and the main window will not scroll unless every row or item is not selected.
here is a button to the window
http://img850.imageshack.../4636/clipboard01rz.jpg

here are the drop boxes that scroll when one wants the main window to scroll
http://img207.imageshack.us/img207/1343/hereu.jpg

IrfanView is locking up while Mouse Hunter is running if I try the scroll wheel and have the feature not to scroll selected
MazovGosha reviewed v1.40 on May 16, 2012
2Sativarg:
You are registered on carc.borda.ru? This forum require registration before post...
I search new forum for English users. You may suggest me other free forums?
PS: You may write to me on feedback form on my web site here http://www.amlpages.com/support.shtml

What the scroll on Nvidia Inspector?
I see no scrollable window.

http://www.amlpages.com/images/nvidiai.gif