File Details

File Size
7.5 MB
License
Shareware, $29.95
Operating System
Windows (All)
Date Added
April 1, 2017
Total Downloads
175,394
Publisher
OpenSight Software, LLC
Homepage
FlashFXP
Publisher's Description
FlashFXP is a powerful and popular FTP & FXP Client loaded with features for the power user. It has an intuitive user interface that takes only minutes to master. Using the FTP protocol, you can transfer files from remote servers to your computer, or even to another remote server. It makes it easy to update your Web site, download files from the company server, or even download files from the internet that always seem to fail using your Web browser. It allows you to transfer files between two sites (FXP), resume incomplete downloads, synchronize directories, schedule multiple tasks, and more.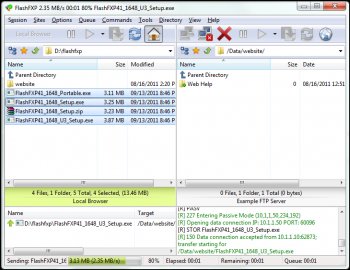 View Full-size
Latest Reviews
thezelda reviewed v5.4.0 Build 3956 on Sep 23, 2022
Charles DeWeese the information thief - who has been grifting for years tracking users, stealing information and using backdoor communication channels with his software to do nefarious things. Charles DeWeese the information thief is now in federal prison. On may 2017, Charles DeWeese was arrested, charged and pled guilty for federal exploitation of a minor. He was sentenced to 15 years in federal prison. And that is the capstone on FlashFXP.
uberfly reviewed v5.3.0 Build 3925 on Apr 11, 2016
Lots of features, the interface is very clean and easy to use. Often updated and improved and very stable. Good stuff.
Yakumo reviewed v5.2.0 Build 3910 on Jan 27, 2016
Can't believe this zelda troll is still at it posting on every release of this for years, absolutely zero proof from them, or sign of any spy activity from this app, ever, it would be all over the internet if it was as it's so easy to detect with any packet sniffer.

Brilliant app, bought it years ago, no better FTP client.
KingSky reviewed v5.1.0.3836 on May 4, 2015
I thought the review 2 below said "amazing troll" a first g
Anne. This is an invaluable too I've been using for years, I could not do business without it. Well worth it.
thezelda reviewed v5.5.0.3719 Beta on Oct 13, 2014
The vile spying trojan known as FlashFXP continues into over a decade of skimming, watching, reporting and general information theft. You want your information private, NEVER trust this company.
oloraf reviewed v5.5.0.3719 Beta on Mar 24, 2014
amazing tool!
mikebratley reviewed v5.0.0.3709 Beta on Mar 11, 2014
awesome stuff
chrispaul reviewed v5.0.0.3709 Beta on Feb 17, 2014
great! 5 stars!
olivergiving reviewed v5.0.0.3622 Beta on Sep 25, 2013
solid
tomkelly reviewed v5.0.0.3622 Beta on Aug 22, 2013
great tool