File Details

File Size
9.4 MB
License
Open Source
Operating System
Windows 2000/9x/Server 2003/XP
Date Added
November 26, 2012
Total Downloads
46,962
Publisher
the AbiSource community
Homepage
AbiWord
Other Versions
Publisher's Description
AbiWord is a free word processing program similar to Microsoft Word. It is suitable for typing papers, letters, reports, memos, etc. It is designed to integrate perfectly with the operating system it runs on. It will take advantage of the functionality provided by the system, such as image loading or printing capabilities.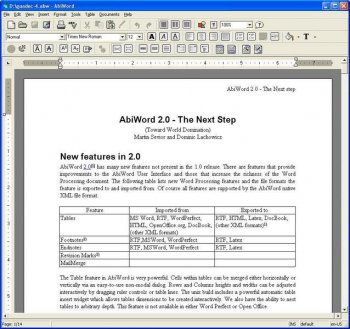 View Full-size
Latest Reviews
Bala7 reviewed v2.9.4 on Nov 26, 2012
to echo what jaynbe said
time moves on but abiword has not
less than 0 star.
jaynbe reviewed v2.8.6 on Jul 21, 2010
Still installing Microsoft Visual C++ 2008 Redistributable-x86 9.0.21022 (2007 version)
wich has been updated twice for critical security flaws to version 9.0.30729 (in 2009)
The installer doesn't even detect the presence of the latest redistributable installed!
konno reviewed v2.8.3 on Apr 7, 2010
Yes, the VC redist stuff is really messed up, and hopefully this bug report will be acted upon some day:

http://bugzilla.abisourc...m/show_bug.cgi?id=12247

Otherwise, this app isn't bad.
jaynbe reviewed v2.8.2 on Apr 3, 2010
Agree with AOKsider

Moreover doesn't even check for installed C++ Redist. files and installs an older distro aside the newer version.
netean reviewed v2.8.2 on Feb 16, 2010
I like Abiword, it's fast to start, works on windows and linux equally well. and for 99% of what I use a work processor for.. it does the job perfectly well.

For 99% or maybe even 100% of the things that most (average) users will ever need from a word processor is in there already.

Better m$ Office compatibility would be well appreciated though
OAKsider reviewed v2.8.1 on Nov 5, 2009
Pros: 1.) No problems with many, simpler Word files. 2.) Nice new icon.

Cons: 1.) Grammar check won't turn off (settings will not save, even after un/re-install). 2.) Puts MS Visual C++ Redist. files on separate drive (and doesn't delete after install). 3.) Uninstall doesn't remove all files (esp. in Start Menu).

Specs: AbiWord 2.8.1, Windows 7 x64 (UAC off)
GadgetPig reviewed v2.8.1 on Oct 30, 2009
Wow this thing evolves WAY too slow. It's good for VERY basic docs. But there are better alternatives when you start to add tables/pictures/columns AND have to maintain close to perfect msoffice compatibility. (which today is STILL important when you have to send sending resumes/ebusiness documents/etc)

Softmaker office 2006 is also free, lightweight and fast to load, handles image placement better than abiword, and has better word and excel cross compatibility than Abiword and even openoffice (no I don't work for them but try it yourself):

http://www.softmakeroffice.com

Needs registering, but if you open and close it a couple times you'll get a dialog box to skip registration altogether.
anomoly reviewed v2.7.8 Beta on Aug 3, 2009
2.7.8 beta can overwrite the 268 portable also
thartist reviewed v2.7.2 on May 27, 2009
great, well above Wordpad but without being bloat.
don't let the few icons in the toolbar mislead u, and revise the menus!

now please, the interface! :(
tylerhw reviewed v2.6.8 on Mar 19, 2009
When all you need is a word processor, why get the whole suite? This gem of an app and Gnumeric are all 90% of normal people need in their full-blown office suite. Abiword works well, runs on every OS, and I mean EVERY. Does all you need, has a portable version, and the native .abw format is extremely compressed, not to mention it will tar gzip files and untar gzip them as well. If you want a word processor, check this one out.