File Details

File Size
1.1 MB
License
Open Source
Operating System
Windows 7/Vista
Date Added
June 17, 2010
Total Downloads
2,121
Publisher
gdipp Team
Homepage
gdipp
Other Versions
Publisher's Description
gdipp is a replacement of the Windows default font render, which brings to you the effect of text like Mac OS and Linux distributions. It is easy to use with ignorable overhead, and it is fully customizable.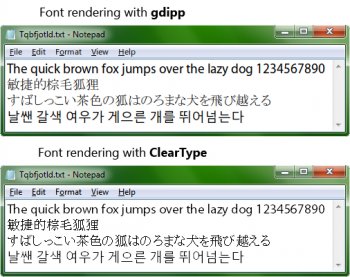 View Full-size
Latest Reviews
anomoly reviewed v0.8.1 Beta on Aug 16, 2010
No actually apparently your only choice is odd fonts across applications under windows, or, a unified structure that makes everything legible.
Meeky reviewed v0.8.1 Beta on Jun 24, 2010
Apparently your only two choices are: clear and pixelated or bold and blurry.
nika27 reviewed v0.8.0 Beta on May 25, 2010
Please read changelog! This is not a bug. And Windows XP was never supported in the first place, it's just that past version of gdipp did not require DirectWrite feature that Windows XP does not have.
AthleticLatino reviewed v0.8.0 Beta on May 24, 2010
Okay version 0.80 has serious bugs. After installing it on my system - Windows XP Pro, 32 bit I get the following error every time an application is launched:
------------------------------------------------------------------------------------
This application has failed to start because DWrite.dll was not found. Re-installing the application may fix this problem.
------------------------------------------------------------------------------------
I tried running it as a service then as a registry setting but both times I received the same error. I am downgrading my rating by 1 star because I think it has potential.
looniaki reviewed v0.8.0 Beta on May 19, 2010
As is mentioned in changelog it no longer works in XP, not that it was ever intended to anyway. But anyway this is brialliant app, and I will continue to use version 0.7.6 on my XP boxes, and newer releases on my 7.
anomoly reviewed v0.8.0 Beta on May 19, 2010
This beta installs in manual mode and can "hurt" your system. Love to see others reviews as I am still running 076 in xp sp3.
johnuw225 reviewed v0.7.6 on May 18, 2010
Simply amazing! This does wonders on my WinXP (which is not even supported OS). Works right of the box, no configuration needed. XML files is for advanced settings (see Wiki). Uninstall entry is present and accounted for in Add/Remove menu.
H2O_lover reviewed v0.7.6 on May 17, 2010
@JeremyP, uninstall is where it is supposed to be - "Add or Remove Programs" (or whatever it's called in W7), and for W7/x64 you have to get 64-bit version.
Hall9000 reviewed v0.7.6 on May 15, 2010
I expected a "slight" difference, IF it worked. In fact it really makes a big difference! Works very well with Windows XP Pro service pack 3. I have a Dell flat screen.
JeremyP reviewed v0.7.6 on May 15, 2010
x64 version installed. No entry in Add/Remove programs. All there is is an xml file. Impossible to tell if it is doing anything. The problem with SO much "open source" code is that is written for the people who write them, but unuseable by other. Shame, my text rendering even on my high spec monitor is no near as good as I would hope for.