File Details

File Size
139.3 MB
License
Open Source
Operating System
Windows (All)
Date Added
April 29, 2021
Total Downloads
369,537
Publisher
OpenOffice.org
Homepage
OpenOffice
Other Versions
Publisher's Description
OpenOffice is the open source project through which Sun Microsystems is releasing the technology for the popular StarOffice productivity suite. It is an international office suite that will run on all major platforms and provide access to all functionality and data through open-component based APIs and an XML-based file format. It establishes the necessary facilities to make this open source technology available to the developer community.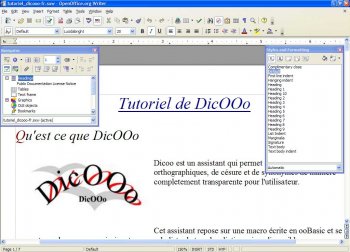 View Full-size
Latest Reviews
Da Xiang reviewed v4.1.7 on Sep 23, 2019
I finally gave up on it over the copy/paste issue and went back to Libre Office.
Sven123456789 reviewed v4.1.6 on Nov 20, 2018
Found Openoffice probably the best free alternative to MS Office. No problems found. I also found it interesting that the few fake trolls who gave this 1 star, also it was the only reviews on there profiles. I see this for RT and IMDB also. I guess they have nothing better to do than create a profile just to bad mouth something.
DudeBoyz reviewed v4.1.1 on Aug 22, 2014
I still think it's a great product, even though it's not cutting edge. But it's also more stable than LibreOffice, which for me, is a huge bonus. I also like that it outlines the printer margins in the page display by default.

Worth a download without a doubt.
PhredV reviewed v4.0.1 on Sep 27, 2013
softwaremagician must work for Microsoft......because this is a pretty decent office suite....and if you use it....who stands to lose out...?
bopb99 reviewed v4.0.0 on Jul 24, 2013
Pretty good, version 4.0 still comparable to libreoffice although this will probably change the coming year(s).
VERY BAD!!! DONT DOWNLOAD THIS s***!!! ITS CNO LONGER RELEVANT!!!SOFTWARE IS WORTHLESS & HEAVY ON YOUR PC>THIS s*** SHOULD BE TAKEN OUT AT ONCE>
Zootopia3001 reviewed v3.4.1 on Aug 23, 2012
@vodimitriy,
Funny, I can open Presentations with OpenOffice 3.4.
vodimitriy reviewed v3.4.1 on Aug 22, 2012
It can't open presentations, which Libreoffice easily open.
Music4Ever reviewed v3.4.1 on Aug 22, 2012
Now bettered by LibreOffice, either in Windows or Linux which has almost flawless integration with most MS Office files although is still good & may be right for some ~
ReallyAlive reviewed v3.4.0 on May 18, 2012
Get LibreOffice instead - http://fileforum.betanew...or-Windows/1288723415/1

OpenOffice.org is no longer relevant. Some of their programmers broke off and formed The Document Foundation and made LibreOffice, because Oracle would have ruined OpenOffice.org with their corporate mindset. Oracle refused to donate OpenOffice for the greater good, then later they abandoned it and gave it away not to the people, but to Apache, so now it has an Apache license.

LibreOffice uses the open source LGPL license and is made by some of the original OpenOffice.org team. Not only that, but the Go-oo project merged their code with LibreOffice, so it's better than OpenOffice ever was. LibreOffice is the office suite to use from now on.

PS - For anyone who doesn't like the Quickstarter feature, it can be un-selected during setup. If you didn't take care of it there, it can be disabled at any time in Tools > Options > Memory. If you un-selected it during the setup, the choice to disable won't appear in Options.